Thank you for joining us on Day 9 of the Peaceful Presence virtual program.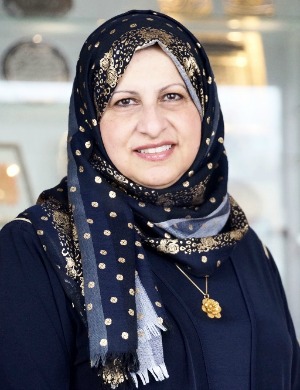 09
Mrs. Janan Najeeb
President and Founder, Milwaukee Muslim Women's Coalition

Janan has given 2,000 presentations and many news media interviews over the past 28 years, making her one of the area's best known and most active advocates for interreligious understanding while working tirelessly to create a just society that rejects racism and bigotry.

She was instrumental in founding the Milwaukee Muslim Women's Coalition in 1994 to promote an accurate understanding of Islam and Muslim women. That work expanding to include leadership, healthcare, and job training programs for women and girls. In 2011, she led the creation of the Islamic Resource Center, a national model for building bridges of understanding between Islam and other faiths. She founded the Milwaukee Muslim Film Festival in 2015, was the first Muslim to ever offer a prayer before the Wisconsin State Assembly in 2016, and launched the online Wisconsin Muslim Journal in 2018.

A longtime member and current chair of the Interfaith Conference's Committee for Interfaith Understanding, she has helped organized many multi-faith presentations, prayer services, and other events. Her commitment to the community is reflected in her participation on the boards and committees of some 15 organizations, including Wisconsin Public Radio, the Marcus Center for the Performing Arts, and the annual city-wide Dr. Martin Luther King, Jr. celebration. Janan is married and has five children.
LISTEN TO MRS. JANAN NAJEEB
music for Reflection
---
Learn more about Mrs. Janan Najeeb's work with The Milwaukee Muslim Women's Coalition