Welcome to Day 11 of the Peaceful Presence virtual program.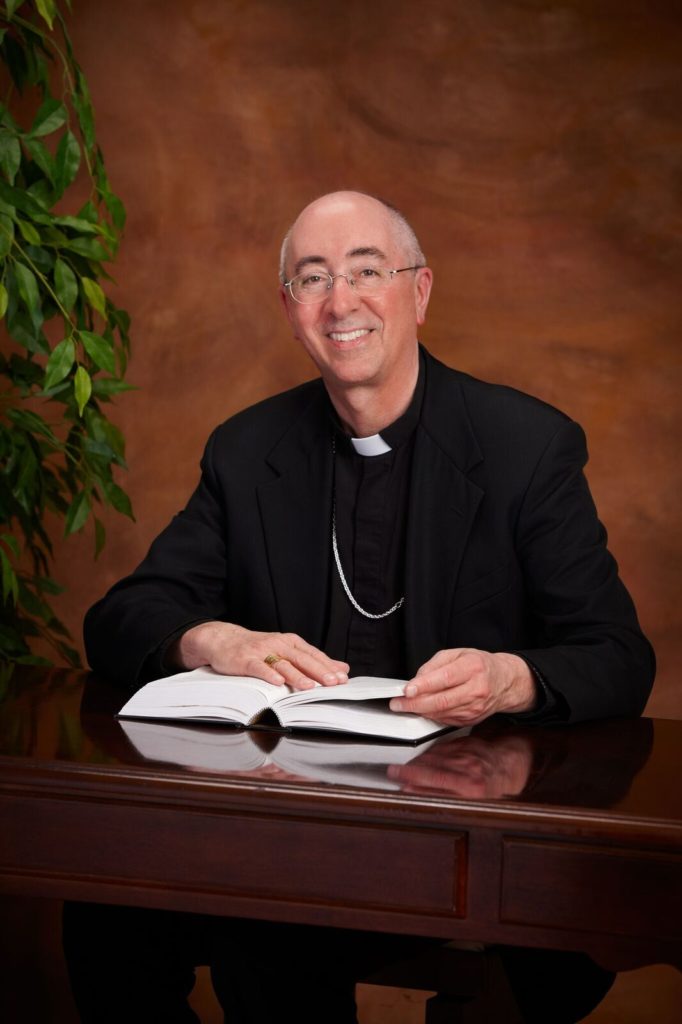 11
Bishop James Schuerman
Auxiliary Bishop, Archdiocese of Milwaukee

Most Reverend James T. Schuerman was born April 5, 1958. He attended St. Joseph's Grade School, Burlington Jr. High School, and Burlington High School. He enrolled in Saint Francis de Sales Seminary College from 1976 to 1980, earning a Bachelor's of Arts degree and, after attending Saint Francis de Sales Seminary for his first year of theology from 1980 to 1981, was selected for studies at the University of Innsbruck, Austria, earning his Masters of Theology. He was ordained to the priesthood on May 17, 1986, by Archbishop Rembert G. Weakland, O.S.B. Bishop Schuerman's first assignment was Associate Pastor at St. Anthony Parish, Milwaukee from 1986 to 1992. He then was selected for missionary service at the Archdiocesan sister parish, La Sagrada Familia, in the Dominican Republic, where he served from 1992 to 1996.

In August of 1996, Bishop Schuerman enrolled in a special graduate program at Chicago Theological Union for returning missionaries, where he earned a doctorate in ministry with specialization in spirituality. He joined the faculty of Saint Francis de Sales Seminary as Spiritual Director and faculty member from 1997 to 2009. In 2009, he became Administrator of St. Andrew Parish, Delavan, and then Pastor in 2010. From 2011 to 2012, he also served as Pastor of St. Patrick Parish, Elkhorn. From 2012 to 2017, he served as Pastor of St. Francis de Sales Parish, Lake Geneva.

Most Reverend Schuerman was named Auxiliary Bishop of the Archdiocese of Milwaukee by Pope Francis on January 25, 2017.
Bishop Schuerman speaks German and is highly fluent in Spanish, which has aided his ministry in the southwestern area of the archdiocese where there is a growing population of Hispanic Catholics. In 2012, he received the archdiocesan Vatican II Award for Service to the Priesthood.

Born in Burlington to his parents, Robert and Elizabeth Schuerman (deceased). Bishop Schuerman grew up in Lyons, and was a member of St. Joseph Parish. He has four siblings, Virginia (Sam) Kalaveshi, Robert (Jean Ann) Schuerman, Jr., Theresa Schuerman (Mark Leemkuil) and David Schuerman.
LISTEN TO BISHOP JAMES SCHUERMAN
Music for prayerful reflection
---
Learn More about Bishop James Schuerman's Work with the ArchDiocese of Milwaukee
---
Prayer and transcript
Una Reflexión sobre la Paz escrita por el Obispo James Schuerman
Una Oración por la Paz (adaptada de una oración del Papa San Juan Pablo II)
En el nombre del Padre, y del Hijo, y del Espíritu Santo. Amen.
O Dios, Creador del universo, tu extiendes tu cuidado a cada creatura y guías los eventos de la historia hacia la meta de la salvación. Reconocemos tu amor, cuando superas nuestra resistencia y nos preparas para la reconciliación en un mundo herido por la discordia. Renuévanos por tu misericordia. Envía tu Espíritu Santo para inspirar los corazones de tus hijos y hijas, para que los enemigos comiencen a dialogar, los adversarios busquen el acuerdo, y todos vivan en armonía. Que todos se comprometan a buscar la paz verdadera que extingue la enemistad, la caridad que supera el odio, y el perdón que desarma la venganza. Eso te lo pedimos por Cristo, nuestro Señor. Amén.
La Paz
¡Saludos a todos! Soy el Obispo James Schuerman, Obispo Auxiliar de la Arquidiócesis de Milwaukee. El tema de esta charlita virtual es "La Paz."
En el Evangelio según San Juan, capitulo 20, versículo 19-20, leemos las palabras: "La tarde de ese mismo día, el primero de la semana, los discípulos estaban a puertas cerradas…Jesús se hizo presente allí, de pie en medio de ellos. Les dijo: "La paz este con ustedes."
En el día de su resurrección, Jesús apareció a sus discípulos, y les ofreció la paz y la reconciliación.
Una vez he tenido la oportunidad de leer una reflexión con el título "La Paz Esté con Ustedes", escrita por Tony Magliano, que escribe artículos sobre la justicia y la paz. Señor Magliano escribió que la paz que Jesús ofreció a sus discípulos es muy diferente de la que ofrece el mundo. El mundo entiende la paz como la paz establecida por la fuerza. El ejemplo clásico de esta idea es la de la Pax Romana del Imperio Romano. Se refiere a un tiempo de dos siglos sin guerra debido a la opresión de los romanos sobre sus territorios conquistados.
Pero la paz de Jesús es diferente. Jesús vino a este mundo para librarnos por medio de su paz.
La palabra "paz" en hebreo es "shalom". No es simplemente la ausencia de violencia. Significa la salud, el bienestar, la seguridad y la integridad.
Y, por supuesto, trabajar por la integridad, la salud y la seguridad de otros reduce conflictos violentos. El Papa San Pablo VI dijo, "Si quieres la paz, trabaja por la justicia."
La paz verdadera tiene sus raíces en la justicia. Si queremos la paz, tenemos que tratar a los demás justamente, reconociendo su dignidad humana. La paz verdadera es un resultado de un respeto sincero por la dignidad de los demás. La virtud de la justicia nos llama a luchar por el bien común. Las comunidades de fe tienen el derecho y la obligación de luchar por el bienestar de los pobres y los más vulnerables.
Pero no podemos lograr la paz solo por nuestros esfuerzos. Es necesario cooperar con la gracia de Dios. Tenemos que invitar la sabiduría y el poder de Jesús resucitado llenar nuestras vidas y guiar nuestras obras. Nuestra relación con Dios es la fuente del amor que necesitamos para tratar a los demás con justicia, y así tratar de lograr la paz.
En el Evangelio según San Mateo, capitulo 22, versículo 34-36, un maestro de la ley le preguntó a Jesús, ""Maestro, ¿Cuál es el mandamiento más importante de la ley?" Jesús le respondió: "Amarás al Señor tu Dios con todo tu corazón, con toda tu alma y con toda tu mente. Este es el primero y el más importante de los mandamientos. Y después viene otro semejante a este: Amarás a tu prójimo como a ti mismo.""
No se puede separar el amor a Dios y el amor al prójimo. Amar a Dios no es un logro humano; más bien es una rendición a Dios y una especia de auto-abandono. Cuando se trata del amor al prójimo, todo amor entre los humanos está orientado hacia Dios. El gran teólogo del siglo XX, Karl Rahner, escribió: "El amor a Dios y el amor al prójimo están en una relación de condicionamiento mutuo". Amar al prójimo no es simplemente algo exigido por el amor a Dios, sino que es una condición previa de amar a Dios. En cierto sentido, una persona llega a conocer a Dios amando a otros seres humanos.
Amar al prójimo es una manera concreta de realizar el amor a Dios. El amor al prójimo es un amor que trasciende a uno mismo.
Jesús presenta el amor a Dios y el amor al prójimo como el más grande de los mandamientos. Por medio de su pasión y muerte, la máxima expresión de su amor por la humanidad, Jesús mostró que el amor al prójimo no es simplemente un mandamiento que se cumple para demonstrar el amor a Dios; más bien es una condición para amar a Dios. El amor a Dios se realiza en el amor al prójimo. Amar al prójimo no significa simplemente la tolerancia de otros, sino una relación. Y una relación requiere dialogo. No es posible vivir en paz sin un dialogo sincero.
Aquí en los Estados Unidos, estamos acercando el tiempo de las elecciones. Los obispos de los Estados Unidos han publicado un documento que se llama, Civiliza la Conversación: Actúa con Dignidad Mas Allá del Debate.
Un aspecto esencial del tema de la paz es el dialogo civil. Y para personas de fe, el dialogo civil es una respuesta al llamado de Jesús de amar al prójimo como a sí mismo.
La Iglesia Católica tiene una tradición profunda de doctrina social. La doctrina social nos mueve a comprometernos en el desarrollo de nuestra sociedad. Por supuesto, se logra esto participando en el proceso político. Pero a veces no queremos entrar en el proceso porque escuchamos tantas palabras dañinas dirigidas a individuos, a grupos y a partidos.
La retórica dañina solamente sirve para dividir nuestras comunidades. Pero es importante que no permitamos que las duras críticas silencien nuestras voces.
¿Cómo podemos tomar parte en este proceso? Primero, según el documento de los obispos, es importante reconocer que todos merecen un lugar en la mesa. No importa la raza, el estatus socioeconómico o inmigratorio. Como discípulos estamos llamados a llevar nuestra fe al discurso público. Amar al prójimo exige que luchemos para proteger los derechos y la dignidad de los demás.
Segundo, como discípulos de Cristo, estamos llamados a ser modelos de civilidad y respeto. Aquellos con los que no estamos de acuerdo son, de verdad, nuestro prójimo. Debemos de acercarnos a ellos con un espíritu de caridad. En nuestro dialogo con ellos, debemos de abstenernos de ataques personales, y no hacer suposiciones sobre sus motivaciones. Es importante tratar de escuchar y comprender sus experiencias.
Tercero, es esencial que usemos palabras y actuemos de maneras que honren la dignidad de los demás. Si usamos un lenguaje irrespetuoso dirigido a otros, traicionamos nuestra propia dignidad humana. Y cuando escuchamos una retórica dañina que no respeta la dignidad de los demás, tenemos que intervenir y manifestarnos.
La participación en el dialogo civil puede ayudar a nuestra comunidad de fe a crear un nuevo espacio de en la cual podemos ser modelos de la caridad y respeto.
¿Qué es el dialogo civil? Es una conversación con personas, cuyas puntos de vista pueden ser diferentes a los nuestros. Diferentes individuos tienen orígenes y experiencias diferentes. Ellos pueden llegar a una conclusión diferente que la de nosotros sobre la mejor manera de promover el bien común. Entonces, ¿por qué iniciamos un dialogo civil con los demás? Porque queremos construir una sociedad de paz basada en la comprensión mutua. Aquellos que no están de acuerdo con nosotros son también hijos de Dios, y merecen nuestro amor, respeto y cuidado.
Esencial para el dialogo civil es el compromiso con la verdad. Respetamos la dignidad de todos, pero reconocemos que no todos los puntos de vista son igualmente válidos. Tenemos la responsabilidad de decir la verdad con caridad y respeto. Todos tienen la obligación de asegurarse de llegar a conclusiones que se fundamenten en datos de fuentes confiables.
Escuchar diferentes puntos de vista es parte de la búsqueda de claridad. El dialogo civil puede ser un proceso creativo. Todos están invitados a contribuir y compartir sus experiencias, valores y creencias.
Debemos de tratar de comprender como nuestros puntos de vista sobre un tema son diferentes y por qué. Sin embargo, no debemos de permanecer en silencio si escuchamos un lenguaje irrespetuoso hacia los demás. No podemos guardar el silencio cuando el lenguaje refleja el racismo, la discriminación, o no respeta la dignidad humana.
A veces, tenemos que reconocer que en la mesa, no todos están dispuestos a entablar un dialogo civil. A veces, lo mejor que podemos lograr seria un desacuerdo respetuoso. Sin embargo, tenemos que permanecer abiertos a escuchar y aprender de los puntos de vista de los demás.
Siempre existe la posibilidad de que, por el dialogo civil, logremos una nueva comprensión mutua, basada en la verdad, el amor y la justicia.
La paz depende de una apertura al dialogo para llegar a una comprensión mutua de cómo servir al bien común.
El Señor les dijo a sus discípulos y nos dice a nosotros, también, "La paz esté con ustedes." Que luchemos siempre por una comunidad de justicia, caridad, y paz. ¡Que Dios los bendiga!
A Reflection on Peace from Bishop James Schuerman
A Prayer for Peace (adapted from a prayer composed by Pope Saint John Paul II)
In the name of the Father, and of the Son, and of the Holy Spirit. Amen.
O God creator of the universe, you extend your care to every creature and guide the events of history toward the goal of salvation. We acknowledge your love as you overcome our resistance and prepare us for reconciliation in a world wounded by discord. Renew us by your mercy. Send your Holy Spirit to inspire the hearts of your sons and daughters, that enemies may begin to dialogue, that adversaries may seek common ground, and that all may live in harmony. May all people commit themselves to searching for the true peace that extinguishes enmity, the charity that overcomes hate, and the forgiveness that disarms revenge. We ask this through Christ our Lord. Amen.
Peace
Greetings to everyone! I am Bishop James Schuerman, Auxiliary Bishop of the Archdiocese of Milwaukee. The theme of this brief virtual presentation is that of "Peace."
In the Gospel of John, chapter 20, verses 19-20, we read the words, "On the evening of that first day of the week, when the doors were locked where the disciples were…Jesus came and stood in their midst and said to them, "Peace be with you.""

On the day of his resurrection, Jesus appeared to his disciples, and offered them peace and reconciliation.
I once had the opportunity to read a reflection titled "Peace Be with You," written by Tony Magliano, who writes articles on justice and peace. Mr. Magliano wrote that the peace that Jesus offered is very different from the peace that the world offers. The world understands peace as a peace established by force. The classic example of that idea is the Pax Romana. That refers to a time of two centuries without war due to the oppressive force used by the Romans over their conquered territories.

The peace of Jesus is different. He came to this world to liberate us by means of his peace.
The word "peace" in Hebrew is "shalom." It does not mean simply the absence of violence. It means health, wellbeing, security and wholeness.
Certainly, working for the wholeness, health and security of others will reduce violent conflicts. Pope Saint Paul VI said, "If you want peace, work for justice."

True peace has its roots in justice. If we want peace, we must treat others justly, recognizing their human dignity. True peace is a result of a sincere respect for the dignity of others. The virtue of justice calls us to work for the common good. Faith communities have the right and the obligation to work for the wellbeing of the poor and the most vulnerable.


However, we cannot attain peace by our efforts alone. It is necessary that we cooperate with the grace of God. We must invite the wisdom and the power of the resurrected Jesus to fill our lives and guide our works. Our relationship to God is the source of love that we need to treat others justly, and so strive to attain peace.

In the Gospel of St. Matthew, chapter 22, verses 34-36, a scholar of the law asked Jesus, ""Teacher, which commandment in the law is the greatest?" He said to him, "You shall love the Lord your God with all your heart, with all your soul, and with all your mind. This is the greatest and the first commandment. The second is like it: You shall love your neighbor as yourself.""

You cannot separate the love of God and the love of neighbor. To love God is not a human accomplishment; it is rather a surrender to God and a kind of self-abandonment. When it comes to love of neighbor, all love between human beings is oriented toward God. The great theologian of the 20th century, Karl Rahner, wrote, "The love of God and the love of neighbor are in a relationship of mutual conditioning." To love neighbor is not simply something demanded by the love of God, rather it is a condition for loving God. In a certain sense, a person comes to know God by loving others.
To love neighbor is a concrete way of actualizing the love for God. Love for neighbor is a love que transcends oneself.

Jesus presents the love of God and the love of neighbor as the greatest of the commandments. By his passion and death, the ultimate expression of his love for humanity, Jesus showed that the love of neighbor is not simply a commandment to be fulfilled to demonstrate love of God; it is rather a condition for loving God. The love of God is actualized in the love of neighbor. To love neighbor does not mean simply toleration of others, rather it means relationship – and relationships require dialogue. It is impossible to attain peace without sincere dialogue.
Here in the United States, we are coming close to the time of elections. The bishops of the United States have published a document titled, Civilize It: Dignity Beyond the Debate.

An essential aspect of the theme of peace is civil dialog. For persons of fe, civil dialogue is a response to the call of Jesus to love one's neighbor as one's self.

The Catholic Church has a strong history of social doctrine. Our social teachings move us to commit ourselves to the positive development of our society. To achieve this we participate in the political process. However, at times we do not want to enter into the process because of the harmful things that are said about individuals, groups and parties.

Harmful political rhetoric serves only to divide our communities. However, it is important that we not allow hard criticism to silence our voices.
How can we take part in the political process? First, according to the bishops' document, we must recognize that everyone deserves a place at the table, no matter the race, socio-economic status, or immigration status. As disciples, we are called to bring our faith into public discourse. Love of neighbor demands that we protect the rights and dignity of others.

Secondly, as disciples of Christ, we are called to be models of civility and respect. Those, with whom we do not agree, are truly our neighbor. We must engage them in a spirit of charity. In our dialogue with them, we must abstain from personal attacks and refrain from making suppositions about their motivations. It is important to try to listen to and understand their experiences.

Thirdly, it is essential that we use words and engage in actions that honor the dignity of others. If we use disrespectful language directed at others, we betray our own human dignity. Moreover, if we hear harmful rhetoric that does not respect the dignity of others, we must intervene.
Participation in civil dialogue can help our community of faith to create a new space, in which we can be models of charity and respect.
What is civil dialogue? It is a conversation with persons, whose points of view could be different from our own. Different individuals have different backgrounds and experiences. They may arrive at a conclusion different from our own concerning the best way to promote the common good. Why should we engage in civil dialogue? Because we desire to build of peaceful society based on mutual understanding. Those who do not agree with us are sons and daughters of God, as well, and deserve our love, respect and care.
Essential for civil dialogue is a commitment to the truth. We respect the dignity of all, but we recognize that not all points of view are equally valid. We have the responsibility to speak the truth with charity and respect. Everyone has the responsibility to make sure that his or her conclusions are based on reliable data.
To hear different points of view is a part of the search for clarity. Civil dialogue can be a creative process. Everyone is invited to contribute his or her experiences, values and beliefs.

We must try to understand how our points over particular themes are different from those of others and why they are. Nevertheless, we must not remain silent if we hear disrespectful language directed at others. We must not remain silent we hear language that reflects racism, discrimination, or disrespect for human dignity.
At times, we will recognize that not very one at the table is ready to engage in civil dialogue. Sometimes the best we can do is agree to disagree respectfully. Nevertheless, we must remain open to listening to and learning about the points of view of others.

There is always the possibility that, through dialogue, we may reach a new mutual understanding based in truth, love and justice.
Peace depends on openness to dialogue, in order to arrive at a mutual understanding about how to serve the common good.
The Lord said to his disciples and says to us, as well, "Peace be with you." May we always work to build a community of justice, charity and peace. May God bless you!