Welcome to Day 15 of the Peaceful Presence virtual program.
A MESSAGE…
Thank you for joining us during the past two weeks to pray for peace and for our government leaders. Let us continue to unite our prayers and reflections moving forward.
This is not the end of the Peaceful Presence Program! The peace talks you have been listening to and reflecting on for the past 15 days will remain available to you for some time yet. You are invited to come back to the talks as often as you want during the next few weeks.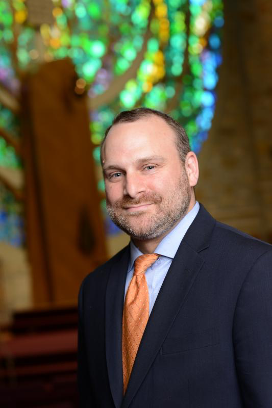 15
Rabbi Noah Chertkoff
Congregation Shalom

Rabbi Noah Chertkoff joined Shalom after three years as the Assistant, then Associate Rabbi of Temple Kol Ami Emanu-El in Plantation Florida. A native of Toronto, Canada, he graduated from York University with a Bachelor of Arts in Religious Studies. He received his Master of Arts in Hebrew Letters and Rabbinic ordination from Hebrew Union College-Jewish Institute of Religion on May 31, 2008 from the Cincinnati campus.

Before entering rabbinical school, Rabbi Chertkoff worked at Seeds of Peace International Camp which is dedicated to empowering young leaders from regions of conflict with the leadership skills required to advance reconciliation and coexistence, served as a Special Assistant to a Federal Cabinet Minister in the Canadian Government and worked as the National Social Action Coordinator for the Canadian Council for Reform Judaism. As a student Rabbi, he has served both Reform and Conservative congregations in Cincinnati, Ohio, Billings, Montana, and Toledo, Ohio. Rabbi Chertkoff has been involved in youth programming, through his participation with NFTY as a mechanech (tour guide and educator) in Israel and worked as a program coordinator at Camp Coleman. He also enjoyed teaching at the Academy of Adult Interfaith Studies at HUC-JIR.

His volunteer activities throughout the years have included his involvement in ARZA, Habitat for Humanity, NaMeRes (Street Help Direct Response to Homelessness), the Interfaith Social Assistance Coalition, and the Maquila Solidarity Network. Rabbi Chertkoff served as a board member of SEACCAR, the South Eastern Assembly of the Central Conference of America Rabbis and was a member of the Broward Board of Rabbis. He loves to bike, sail, canoe, hike, camp and play guitar (badly), watch baseball and hockey. Rabbi Noah is married to Lauren Berger and their family includes Hannah, Judah, Josie and Kaiah (their dog).


LISTEN TO RABBI NOAH CHERTKOFF
Music for Prayerful Reflection
---
To Learn More ABout Rabbi Noah Chertkoff's Work
---