On August 4 of 2018, the Compañeros Ignacianos de Milwaukee emerged as a Community of the Ignatian Associates, born from the generosity of the Milwaukee Ramos Community. We are currently fifteen promised members. Our name, Compañeros Ignacianos, reflects our determination to live as an intentional Community of Latin/Hispanic culture, although open to other cultures. Family, in all its forms, is fundamental to our Community. We pay special attention to our children and to our precious elderly. As Ignatian Associates we strive to live in Christ and spread his Gospel through the experience of Ignatian Spirituality. Having experienced the tender love of God in our harshest moments in life, we respond to God in daily prayer with gratitude and full trust. This love of God impels us to be in solidarity with each other and with the poor and marginalized. We enjoy community life, sharing communal meals, reflections, and family celebrations. We intimately share our faith lives in small base communities. This 2018-19 year we have "accompanied" eighth grade Latina girls along with their parents, in their transition to high school.
This Community project is part of the Community's 2019 priorities:
Let Christ impact us, praying daily and making real personal changes.
Grow in mutual trust as a courageous and creative community "en salida" (outward focus).
Reach out to young people, seeking with them being solidarity with the marginalized and our mother earth through community projects.
Contact us: companeros@ignatianassociates.org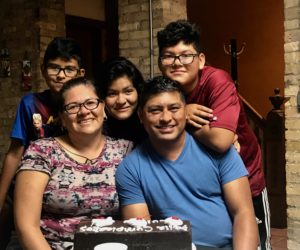 En agosto 4 de 2018 los Compañeros Ignacianos de Milwaukee nacimos como una Comunidad de Ignatian Associates auspiciados generosamente por la Comunidad de Ramos de Milwaukee. Formamos ahora una Comunidad de 15 miembros. Nuestro nombre, Compañeros Ignacianos, refleja nuestra determinación de ser una Comunidad intencional de miembros que compartan la cultura latina/hispana, pero abierta a otras culturas. La familia, comprendida en todos sus aspectos, es fundamental para nuestra Comunidad. Les damos atención especial a nuestros hijos y a nuestras queridas persona mayores. Como Ignatian Associates, tratamos de vivir en Cristo y difundir su Evangelio mediante la Espiritualidad Ignaciana. Habiendo vivido el tierno amor de Dios en los momentos más difíciles de nuestras vidas, le respondemos a Dios orando diariamente, llenos de gratitud y con toda nuestra confianza. Este mismo amor de Dios nos impulsa a vivir en solidaridad entre nosotros, con los pobres y marginados, y con nuestra madre tierra. Nos encanta la convivencia de nuestra comunidad, compartiendo comidas, reflexiones, y celebraciones de nuestras familias. Intimamente compartimos cómo vivimos la fe en nuestras vidas ordinarias reuniéndonos en pequeñas comunidades de base. En este año 2018-19 nos hemos comprometido a "acompañar" a un grupo de jovencitas latinas de octavo grado junto con sus padres, en su transición a "high school." Este proyecto de nuestra Comunidad es parte de las tres Prioridades que escogimos para este año.
Estas Prioridades son:
Dejarnos impactar por Cristo, orando diariamente y haciendo cambios verdaderos en nuestra persona.
Crecer en la confianza entre nosotros como una Comunidad generosa y creativa, "en salida."
Comprometerse con los jóvenes, solidarizándose con los marginados juntamente con ellos.